Need Your Chimney Rebuilt?
Does Your Chimney Need Relining?
Just leave your name and number in the boxes below and we will contact you as soon as possible.

Chimney Repairs
The need for chimney repairs could arise due to a number of many reasons. These reasons are usually a result of excessive water vapour which leads to corrosion inside the flue and could lead to blocked flues, or a result of a poor draft. Today, chimneys are usually neglected, leaving them as one of the most mis-diagnosed systems. Common repairs are done inside the firebox and on the roof. This is because of the harsh heat of direct flames which deteriorates the mortar and brick within the firebox. Eventually, certain repairs require just a little service, while some require extensive repairs, with water damage top of the list.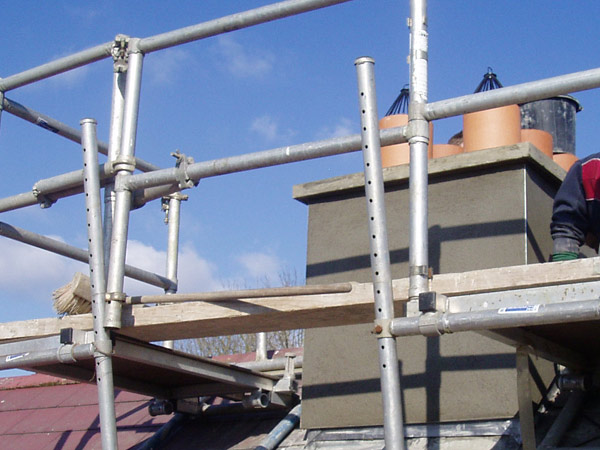 Have you a chimney problem?
Why not call us free on 045 850 957
We can discuss your needs over the phone and if required can arrange a time that suits to visit your home or premises to conduct a visual survey and estimate.
Chimney Rebuilds
This is otherwise referred to as chimney brick repairs, or chimney reconstruction.
Chimney rebuilding becomes necessary where the actual chimney stack has become cracked or unstable, usually above roof level, and often due to chimney fire, storm damage or overly heavy aerials attached to the stack.
Certain amount of consistent, unattended chimney leaks could eventually leave your chimney structurally vulnerable, in need of rebuild.
Chimney rebuilds could be partial or total depending on the level of damage to the chimney.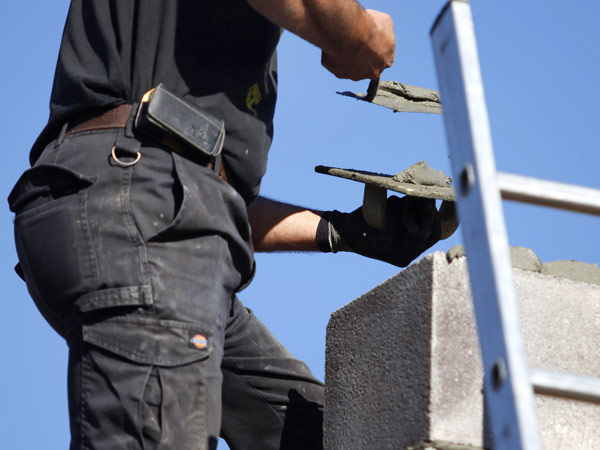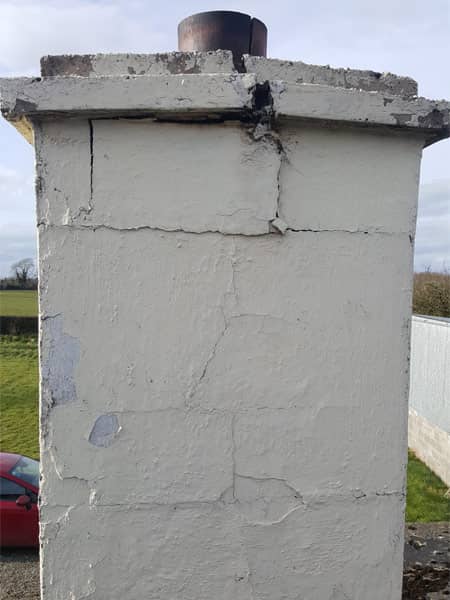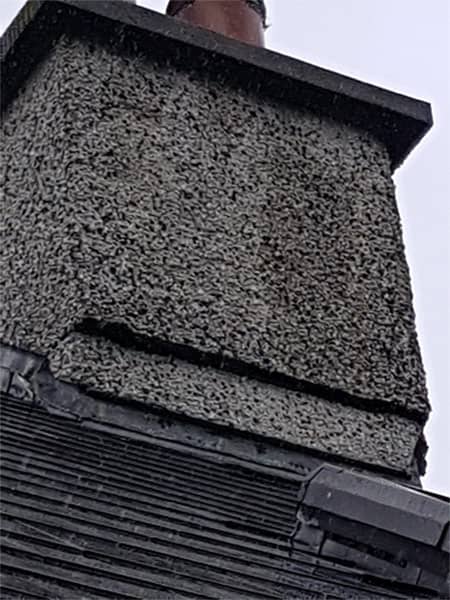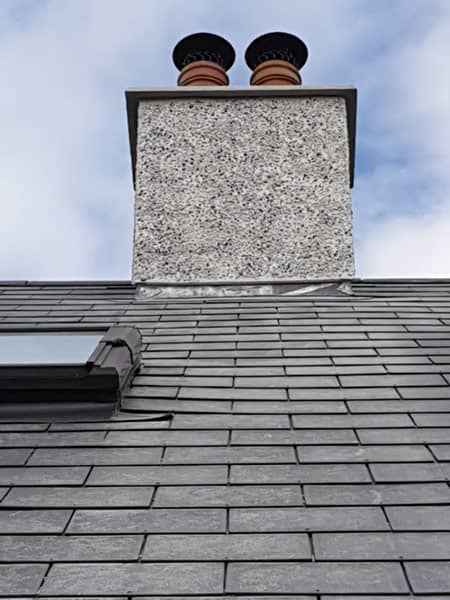 Waterproofing can save on future repairs!
An ideal preventive measure for more modern chimneys would be waterproofing of your chimney against damage.  For older chimneys lacking this protection, a rebuild could incorporate waterproofing to save you the extra cost of future regular repairs. 
Chimney Relining
Over time, most types of chimney flue or liner begin to deteriorate.
Due to the important role played by the liner in channelling heat and gas through the chimney top and in protecting combustible materials around the chimney from heat, damage to the liner could be hazardous to the house.
Chimney relining may be required in the aftermath of a chimney fire, (relining may be covered by your house insurance).
New lining may be required in older buildings that were built of stone or brick and have had no lining installed originally. This is common in buildings erected before the 1960s.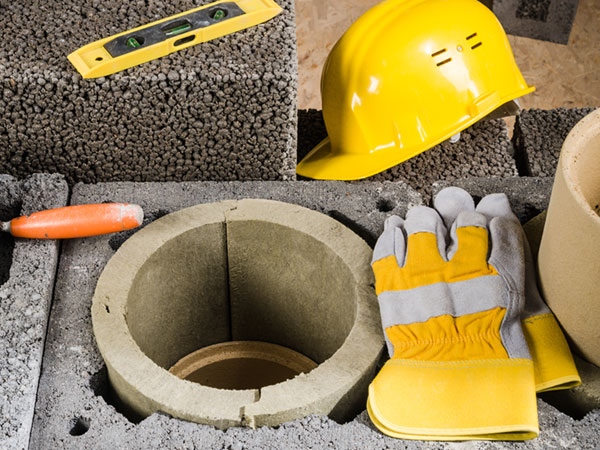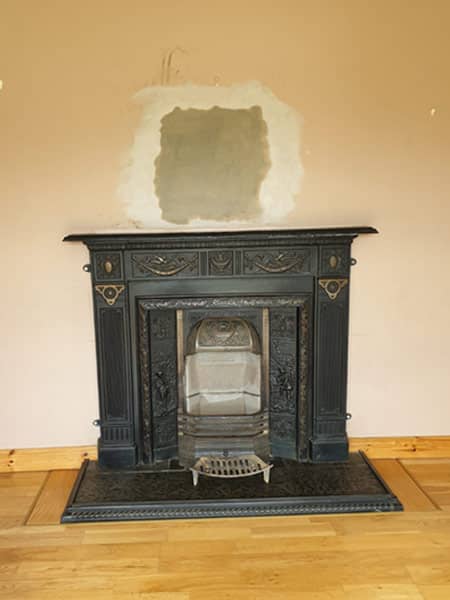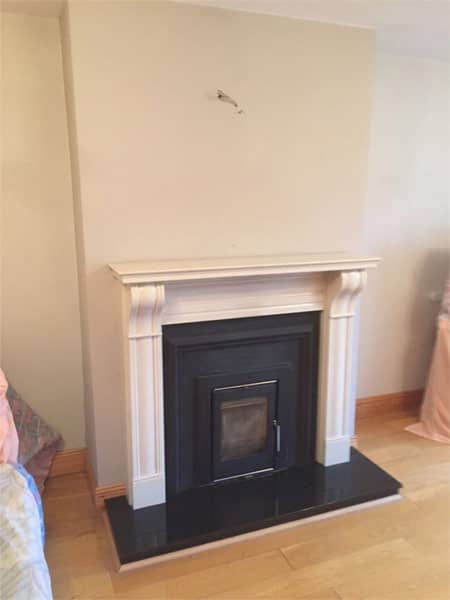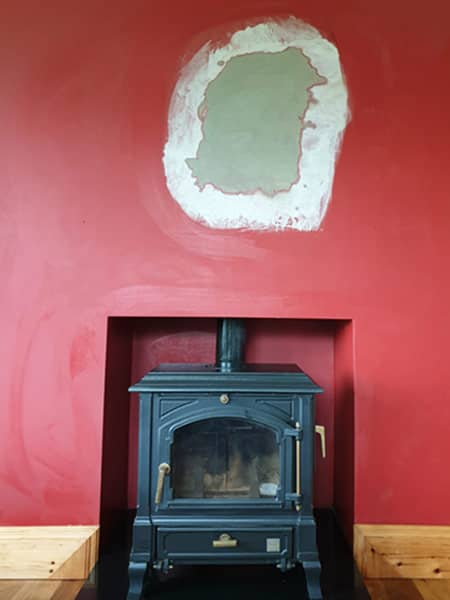 General Repairs & Fitting Service
We provide a general repair and maintenance service that includes replacement of fire backs, top pots and chimney flashings. We are available to fit stoves, open fires, cowls and crow guards.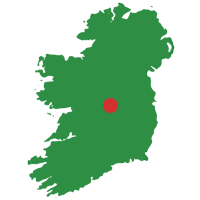 Another Happy Customer!
"Talbot Chimneys Ltd. did quality work, both cleaning and repairing the chimney. We contacted various chimney companies, and then chose Talbot Chimneys. Friendly and professional, and they cleaned up after the job too. Reasonably priced to boot."
Marc, Co.Offaly