Looking For A Chimney Inspection?
We Provide A Nationwide Service
Call Us on Freephone 045 850 957
Just leave your name and number in the boxes below and we will contact you as soon as possible.
Chimney Inspections & CCTV Camera Inspections are provided by our team of professionals throughout Kildare and across all of Ireland.
Chimney Inspection
We are equipped with the latest internal chimney surveying systems (CCTV) and can provide a recorded survey of your chimney for insurance companies, architects, engineers etc. Unfortunately, enjoying a crackling fire at the fireplace is not without hazards. The by-product of doing such is the build-up of creosote and soot, which restricts air flow, and eventually damages the fireplace. While a gas fireplace chimney could have fewer concerns, the presence of debris or possibly a bird's nest could see it blocked as well.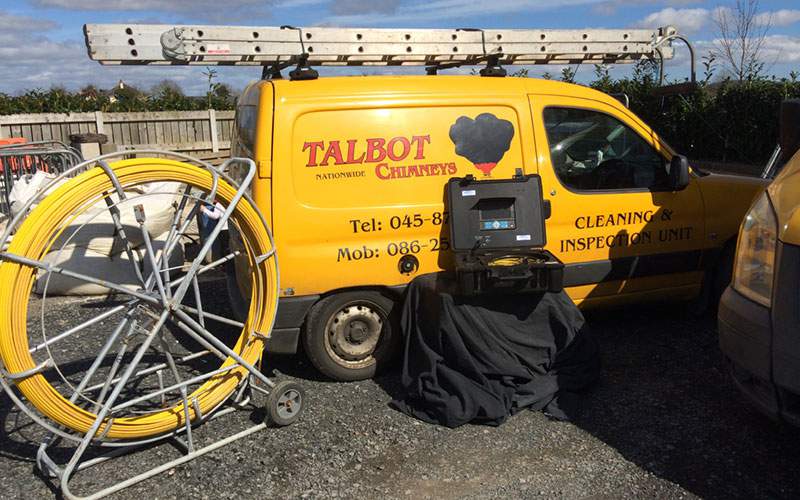 If unchecked, these blockages inhibit fireplace performance, at best, and at worst could lead to the heavy production of harmful carbon monoxide, eventually culminating in a fire.
Hence, the need for regular inspection of the chimney fireplace by professionals, at least once a year. Chimney inspection searches for and identifies budding build-up of blockages, as well as other chimney problems. This is followed by chimney sweeping (if needed) to remove these blockages.
Have you a chimney problem?
Why not call us free on 045 850 957
We can discuss your needs over the phone and if required can arrange a time that suits to visit your home or premises to conduct a visual survey and estimate.
There are three levels of chimney inspection;
1 – Level one inspection involves a manual visual check of the chimney and fireplace, devoid of the use of any special equipment. This would have the inspector come along with nothing but a flashlight for the visual inspection meant to identify damages, creosote build-up, and the presence of soot or other blockages. Depending on the findings, a chimney sweep is performed on the spot.
2 – Level two inspection is needed for those who may just have experienced a destructive weather or natural event, or those just moving in. This inspection covers the level one inspection, plus a visit to the roof, crawl space and attic. CCTV inspection is also employed in search of possible chimney problems.
3 – A level three inspection is needed after a chimney fire, because it usually involves major changes and chimney rebuilds.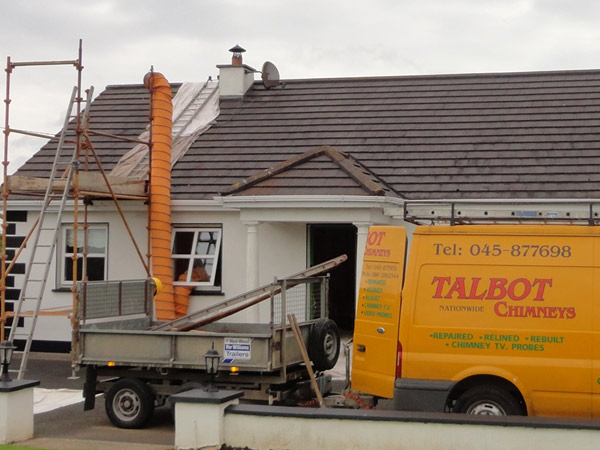 We have an excellent working relationship with many of Ireland's leading insurance companies and loss adjusters.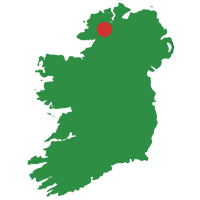 Another Happy Customer!
"I would like to recommend Talbot Chimneys to anyone who needs a chimney repair. I found Talbot Chimneys on Google and right from the start, I felt confident with Vincent. I received a very competitive estimate after they fully inspected the chimney inside and out. The old chimney was removed and the new one installed and when they left you would not have known they had been there inside & the out was left clean of all debris. The entire team was always respectful and informative.
Thanks Talbot Chimneys. Great Job, I highly recommend."
Kathleen Mac, Co.Donegal